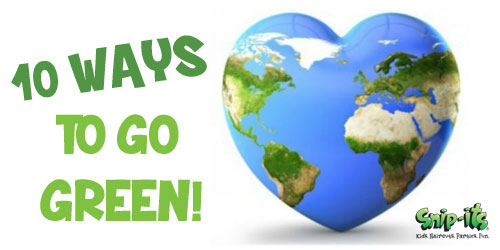 Earth Day is April 22! Need some inspiration for you and your family to go green this year? Look no further: Here's 10 ways to go green for Earth Day—all of them are small steps towards helping our environment and passing on an Earth we're proud to hand over to our kiddos.
1. Flip the switch. 
Turn out the lights when you leave a room. Simple. It does make a difference. Just as easy: Unplug appliances when not in use.
2. Recycle Crayon Craft. 
Don't throw away those bits and ends of crayons. Collect them and melt them down in muffin tins, let cool and you have a multi-colored Earth for all of your coloring needs.
3. Watch the water.
Taking a shower uses less water than filling a bathtub, and a water-conserving shower head is even better! Try to decrease your shower time by a minute or two to start and keep a pitcher under the faucet while waiting for the water to warm; use that water for your thirsty plants.
4. Bird feeder craft. 
This homemade recipe from Hellobee is the perfect toddler craft to start a discussion about Earth and nature and how we can help. Added awesome: it's fun and busy for those tiny tots who need to expel some extra energy.
5. Bring a bag.
Remember your reusable bags to avoid using paper. This goes for lunch bags too! Try a Farmer's Market this year and bring the kids; start a conversation about growing, planting and buying locally.
6. Nature name craft. 
Use found leaves, grasses, twigs and dandelions to create your name with nature on the next family hike. Use stuff around the house like construction paper, leftover bits of ribbon, twine and wrapping paper to complete the project.
7. Get down and dirty. 
Compost your food waste to reduce trash that goes to a landfill. It's easier than you think and if you garden, add compost for nutrient-rich soil.
8. Self-watering plant craft.  
Super easy and another great way to plant with the little ones. All you need is a used and cleaned plastic bottle or two and this DIY How To post. Your little ones will love seeing the water level and helping water your seedling as it grows. Way to reuse and replenish!
9. Plant a tree.
A single tree can absorb up to 2,000 pounds of carbon dioxide over its lifetime. Gardening in general is a great family fun-time activity, but a tree your kiddos can watch grow for a long, long time.
10. Upcycle your hair care bottles.  
So many fun craft projects on Pinterest for plastic shampoo, conditioner and styling product bottles. Make a phone charging stand, some jewelry or monster pencil cases. Checkout our Earth Friendly Pinterest Page for ideas and let your kid's imagination soar!
Don't forget your Snip-its hair care products which are naturally based, using plant-derived irritant and allergen-free ingredients—designed with kids and our planet in mind. Celebrate Earth Day this year every day with the whole family. One step at a time to a healthier planet.