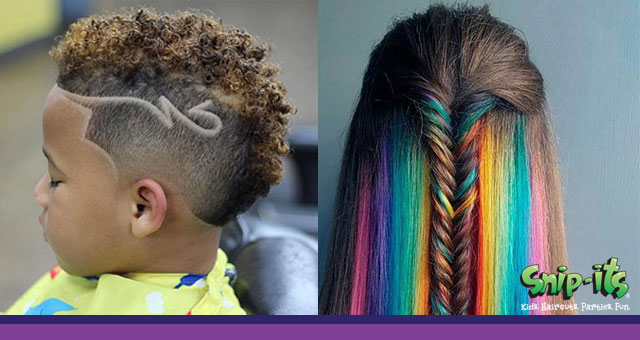 2018 hair trends are all about originality, innovation and creativity. Because every kiddo who walks under our character arch for a Haircut Adventure is a unique individual—the only one of their kind. This year's trends highlight and expand upon that distinctiveness and singularity, using imagination and lots of style to create the following haircuts and looks.
Boys:
HARD LINE AND CUT-IN DESIGNS
This major trend of 2017 continues to grow in 2018 with designs getting more and more imaginative and intricate. Look for hard line parts with a purpose; they are emphasizing the side part trend by creating dapper looks your little dude will look great in.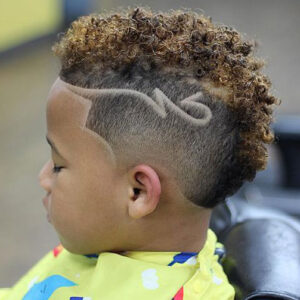 What's New with This Trend?
Neckline Hair Design – building on the current hard line and design trend, this version relocates the design from the sides to the back of the head. Look for anything from a simple 'V' to a complex, multi-fade patterns.
LONGER LAYERED CUTS
Boys are trending towards haircuts with natural flow and layers. Disheveled looks that mean you can throw some Snip-its Wacky Wax in there and send them on their way to school or play without much hassle.

SIDE PARTS
This versatile style comes in many different looks and textures; it can be as clean cut or bold as you like. Plus, add a hard line part and this comb over fade will practically style itself. This season think dapper and tidy, well-trimmed perfection. Style with Snip-its Silly Slicker Ultimate Sculpting Gel to keep this look fresh all day.
LONGER SIDE BANGS
Textured crops, tappers or fades, the long side bangs are all over this year. Whether you take those bangs and leave them messy or natural in front or sweep them back for textured height, the you're your little dude is ready for whatever the day may bring. Use Snip-its Amazin' Spray & Play Hairspray to keep the flyaways at bay and the bangs in just the right place.
TEMPLE FADE – SHAVED SIDES
Temple fade haircuts give the look of longer and natural tops. Tousled and natural quiffs get a dose of Snip-its Morning Miracle Mousse Styling Spray.
Girls:
TRANSFORMATION
Switch things up, make a change. New year, new kiddo. It's a trend in 2018, but it's also what we love to do. The easiest way for your little one to show some individuality and imagination is to play with different styles and cuts. Hair grows back so quickly for our kids—change it up and get creative. Long to short looks for girls are all the rage this year.
HOT TREND: short hair is being transformed into asymmetrical looks in 2018 too. So many cute options!
TIP: Not ready for the short, short style. Transform with color streaks and intricate braids, they aren't as long lasting and your little fashionista still get a creative renovation! Plus, our Kids' Hair Experts LOVE listening to what your little one is looking for and helping them make the change.
PIXIE
Some girls are ready for this dramatic change and some aren't. It definitely takes guts, but the payoff is totally worth it. Trends in 2018 for the pixie include disheveled and natural styles, along with the reincarnation of the Twiggy look—just a little modernized for this century. Great for girls who refuse to brush their hair and parents who may be at their wits end. Spritz in some Snip-its Tangle Tamer for perfect style; curly curls can tame the pixie too.
CROPPED BOBS
The bob is classic and will always be in fashion—this cropped version is the 2018 trend for girls. It's similar to a pixie cut, but a little longer and with more room to play with different styles. The technical term is inverted, which means there are a bunch of stacked layers at the back getting a little longer and curved at the front. What does that mean for your little one? She gets a super-cute, trendy haircut with low-maintenance. Try a pea-sized dose of Snip-its Funny Frizz Fix'r for styling ease.
COLOR – STREAKS, STENCILS AND RAINBOW BRAIDS
Color Streaks and peekaboo hair color is not going anywhere in 2018. It's just growing and growing. Both boys and girls can rock color streaks, color shots, hair chalk and color gels. At Snip-its, we use kid-friendly color which washes out in a few washes. Which means your littles can come back again and again and play with a multitude of different colors and combinations. Adding a bit of Snip-its Sparkle Spritz Shining Mist really makes the color pop.
What's New with This Trend?
Hair stencils and rainbow braids are the newest reincarnation of the color trend this year. Known on the adult runway as unicorn hair, because everything unicorn is in and on trend, the rainbow braid for our kiddos is just plain FUN!


HAIR ACCESSORIES
Everything old is new again…scrunchies are back?! You get to be the cool parent with this trend. Hair accessories of all types and kinds are on trend in 2018. Barrettes, headscarves, hairbands, headbands and bows. The creative streak continues with this trend as your tiny divas get to add all kinds of accessories to their 'dos this year. Playful and fun, but also useful and practical—hair accessories are big in 2018 because of their versatility. We can definitely jump on that bandwagon!
2018 hair trends look a lot like 2017 trends, but this year they are more individual, more stylized and even more fun! Snip-its is the perfect place to get your hot trends when it comes to kids' hair. We are the experts! What are you waiting for? Stop in and learn about trends, styles and products that will make your little one be just as unique and awesome as they want to be! 2018 is the year to standout with creativity.