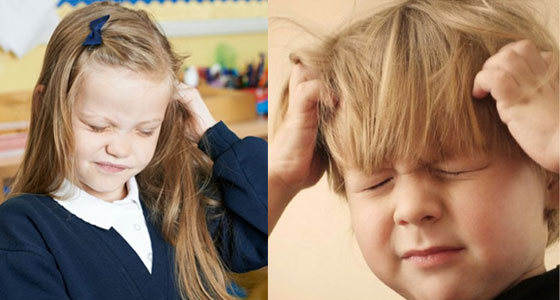 September is National Lice Prevention Month. Back to school is here and that means your kiddos—and therefore your entire family—are susceptible to itchy, icky, yucky LICE! Don't panic: Every day is Lice Prevention Day at Snip-its. We've got kid-friendly, all-natural prevention and elimination products to stop those pesky bugs before they even get started.
LICE FACTS:
From Ladibugs Inc. and the Centers for Disease Control and Prevention.
Head lice infestation is most common among preschool-aged kiddos attending daycare, elementary school kids and household members of infested children.
Lice is second only to the common cold as far as things your little ones pick up from school.
20 million Americans contract lice EVERY YEAR.
Head lice are NOT a hygienic issue; in fact, lice like clean hair the best.
Lice CANNOT hop or fly—they only move by crawling.
Where to find head lice: Most commonly behind the ears, near the neckline at the back of the head and near the forehead.
Pets do NOT spread lice.
Lice don't swim. However, the chlorine found in pools does not kill them. They can also survive several hours underwater.
Head lice are most active in the dark and cannot survive long without their human host.
Head-to-head contact (who's picturing group selfies here?!) puts someone at the greatest risk of getting lice.
LICE PREVENTION 2017 STARTS AT SNIP-ITS 
Good news: Many Snip-its locations (Check with your local salon to be sure.) carry Ladibugs Hair Care—a pesticide and chemical-free line of products using the highest quality ingredients and essential oils to prevent and treat head lice.
What's different about Ladibugs? It's an all-natural brand that effectively works the very first time! That means it can eliminate those SUPER LICE that have become resistant to other, chemically-based treatments. Ladibugs products are safe for the entire family.
 Lice Prevention Kit – Prevention products at the salon use all-natural ingredients and essential oils lice find offensive. They are also gentle enough for everyday use on adults and kiddos with sensitive scalps.
 Lice Elimination Kit – The whole family can use The Ladibugs Elimination Kit at any time—even without a head lice breakout – or if you're not sure. It is safe and pesticide-free, natural and water-based. Step 1 eliminates head lice. Step 2 eliminates nits and eggs. Step 3 is a specialized comb which easily removes lice and nit debris from the hair. The products are made with Grapeseed Oil—which is always great for skin and hair. The peace of mind that comes with knowing your household is lice free? Totally worth it!
 #1 Product – Ladibugs Mint Spray (which is also part of the Prevention Kit) is the line's number one selling product. It's made with a specialized, water-based formula to help ward off head lice. This spray is so safe and versatile you just may start using it everywhere: spray it in the hair, on backpacks, scarves, coats, hats, car seats—especially during the school carpool season, movie theater seats, airplane seats or pillows, sleeping bags and bedding. Why wouldn't you carry this product with you everywhere your little ones go.
LICE PREVENTION 2017 RESOURCES:
Stop into the salon and talk to a Kids' Hair Expert about Lice Prevention 2017 and the right products for your entire family. Turn those itchy scalps into cool kids' styles at Snip-its!