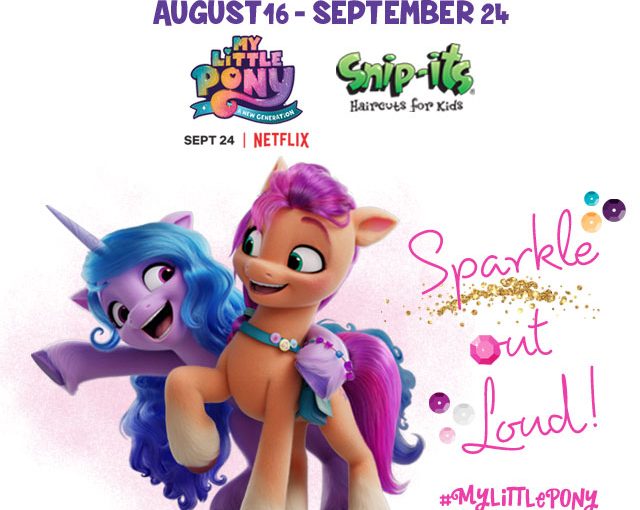 7/30/2021
Snip-its® announced today, on International Friendship Day, its upcoming multi-channel entertainment marketing promotion supporting the September 24, 2021 release of My Little Pony: A New Generation on Netflix. The promotion launches the week of August 16th in all its salons nationwide and runs through September 30, 2021.
Always Better Together
In the new movie, the unimaginable has happened…Equestria has lost its magic! Earth Ponies, Unicorns, and Pegasi are no longer friends and now live separated by species. But idealistic Earth Pony Sunny (Vanessa Hudgens) is determined to find a way to bring enchantment and unity back to their world. Teaming up with open-hearted Unicorn Izzy (Kimiko Glenn), the pair travel to faraway lands where they encounter the likes of charismatic and brave Pegasi Pipp (Sofia Carson) and Zipp (Liza Koshy) and the ever-responsible fellow Earth Pony Hitch (James Marsden). Their mission is full of misadventures, but these new best friends each possess their own unique and special gifts that may be just what this ponyverse needs to restore magic and prove that even little ponies can make a big difference.
Fresh Adventures!
The launch of this new Snip-its service and retail marketing promotion, just in time for Back-to-School fresh new 'dos, will bring My Little Pony: A New Generation to life within its salons through co-branded, temporary color add-on services inspired by each of the Mane 5 and new best friends. The Snip-its Haircut Adventure will sparkle more and shine bright with add-ons, in-salon giveaways, exclusive video content and local and national social media sweepstakes. Girls and boys will enjoy My Little Pony content in the salon while expressing themselves with the pony-inspired add-on service of their choice – culminating in fun times together for kids and their parents.
"We are honored to be partnering with an iconic brand such as My Little Pony." said Jason Bakker, CEO of Snip-its Franchise Corp. "Parents today will remember the magic of their childhoods and be excited to share and continue that experience with their children today in our salons."
In addition to in-store signage and POP displays, Snip-its is supporting the promotion with digital advertising, email marketing, social media, and giveaways in the communities they serve.
About Snip-its Haircuts for Kids:
Snip-its is a leading kids' salon franchise with locations throughout the United States that has been operating for more than 25 years. Their fully equipped salons and specially trained professional stylists cater to families with children and provide a fun, safe, and exciting hair cutting and styling experience for boys and girls ages 6 months to 12 years old.
About Hasbro
Hasbro (NASDAQ: HAS) is a global play and entertainment company committed to making the world a better place for all children, fans and families. Hasbro delivers immersive brand experiences for global audiences through consumer products, including toys and games; entertainment through eOne, its independent studio; and gaming, led by the team at Wizards of the Coast, an award-winning developer of tabletop and digital games best known for fantasy franchises MAGIC: THE GATHERING and DUNGEONS & DRAGONS.
The company's unparalleled portfolio of approximately 1,500 brands includes MAGIC: THE GATHERING, NERF, MY LITTLE PONY, TRANSFORMERS, PLAY-DOH, MONOPOLY, BABY ALIVE, DUNGEONS & DRAGONS, POWER RANGERS, PEPPA PIG and PJ MASKS, as well as premier partner brands. For the past decade, Hasbro has been consistently recognized for its corporate citizenship, including being named one of the 100 Best Corporate Citizens by 3BL Media and one of the World's Most Ethical Companies by Ethisphere Institute. Important business and brand updates are routinely shared on our Investor Relations website, Newsroom and social channels (@Hasbro on Twitter, Instagram, Facebook and LinkedIn.)
© 2021 Hasbro, Inc. All Rights Reserved.