We love what we do. You will too.
The fun begins the minute your child enters our salon! Your child will experience a bright and colorful world designed just for kids, that's safe and clean. Snips and The Gang are at the ready to make friends and play, too.
When your child checks in, he or she will receive a Snip-its Adventure Club card and be welcomed with our interactive Snip-its sing-along video.
Moms and dads have a special place of honor at the parent chair where they can share in the fun at a safe social distance. Our specially trained stylists will consult with you on our COVID-19 safety procedures and your haircut and styling needs while your child is entertained by our age-appropriate salon gaming or videos.
Once the stylist finishes your child's adorable new look, it's time to trade in the Adventure Club card for a special prize at the Snip-its Magic Box.
Snips and The Gang love making friends.
Snips and The Gang know that kids love to sing, dance, and play. Once you meet them and learn about their favorite things to do, your child will look forward to seeing them every time they come in.
Snips
Snips is the leader of The Snip-its Gang, and nothing pleases him more than welcoming a new customer to Snip-its.
He is the all-American kid who is easy-going, loves to laugh, and is an all-around good guy. Snips loves to surf and hang out with friends. His favorite food is hamburgers with extra ketchup and pickles. And he is most likely to help an old lady cross the street.
Curly Comb
Curly comb is Snip-its' star athlete and a sports enthusiast. He is a sports-aholic and a straight-A student who loves baseball and rapping. His favorite food is hotdogs with mustard (Fenway Franks are his favorite), and he is most likely to play in the big leagues.
Flyer Joe Dryer
This goofy Snip-its adventurer loves to look for excitement while traveling the world in his famous hot air balloon. Flyer Joe is an adventurous guy who is up for anything from exotic travel and mountain climbing to safaris and hot air ballooning. He packs his favorite food, peanut butter and banana sandwiches, to bring on all his adventures and loves to wrestle alligators. He's the most likely to travel around the world in 80 days.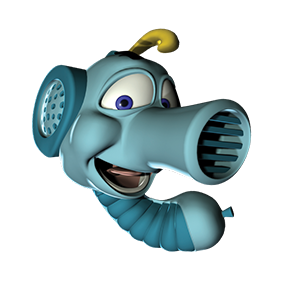 Maranga Mirror
This cool, laid back Caribbean Mama enjoys cooking, painting, and creating beautiful hair styles. She spends her time sunbathing in the Caribbean sun, braiding hair, snorkeling, and cooking. Her favorite food is mango and papaya, and she is most likely to become a famous Caribbean chef.
Jean Luc le Spritz
Hailing from Paris, Jean Luc loves art, literature, and the "finer" parts of life. As Snip-its' resident stylist, Jean Luc is known for being happy, stylish, and sophisticated. He loves to style hair, paint, and appreciates fine arts. French Toast is his favorite food, and he enjoys painting landscapes outdoors. He's most likely to have his work hung at the Louvre in Paris, France.
Marlene & Charlene (The Clip-ette Sisters)
The Clip-ette sisters love shopping, rock 'n roll…and Curly Comb. They are the cheerleaders of The Snip-its Gang and are all-American girls who love to have fun whether shopping, going to the beach, or listening to rock 'n roll music. Cotton candy is their favorite food, and they love to ice skate. They are most likely to star in a fashion show.
Our stylists make your child look and feel great!
We've created a world that kids love being part of. It starts with our stylists—haircutting rock stars who have been specially trained to work with children in our post-COVID-19 world. Stylists who are members of the Snip-its Legends Club™ are recognized for achieving the highest levels of technical and customer service possible. To be inducted in the Legends Club, a stylist must:
Complete at least 10,000 kids' haircuts at Snip-its
Undergo certain training courses
Receive nominations by franchise salon owners and our customers
Represent Snip-its by working in the community through service projects and more!
The criteria is then reviewed by the Legends Club Panel. You can recognize Snip-its Legends by their personalized teal smock, commemorative pin, and certificate of induction. Despite their legendary status, they still continue their professional passion—making children look and feel great.